Nepal marks 21st International Indigenous Day

Leaders of Nepal's indigenous community have vowed to wage a new war if the ruling parties continue to ignore their agenda: demarcating federal provinces reflecting identity of various ethnic groups. They have also claimed that their war will be fiercer than the Maoist war.
The four major political parties -- the Nepali Congress, the CPN (UML), the UCPN (Maoist) and the MJF (D) – have signed a fresh deal to carve out six federal provinces in Nepal. And the deal coincides with the International Day of the Word's Indigenous Peoples. At an event organized to mark the Indigenous Day, Janjati leaders warned of a new armed insurgency.
Speaking at a gathering outside the Constituent Assembly (CA) hall, Nepal Federation of Indigenous Nationalities (NEFIN)'s founding chairperson Parsuram Tamang said: "The new deal has just reshuffled the districts and Indigenous Peopless like Tharu and Magar have been forced to live in two different provinces. This is a conspiracy to eliminate identity of Indigenous Peoples. We are against it, we are even ready to go on a war."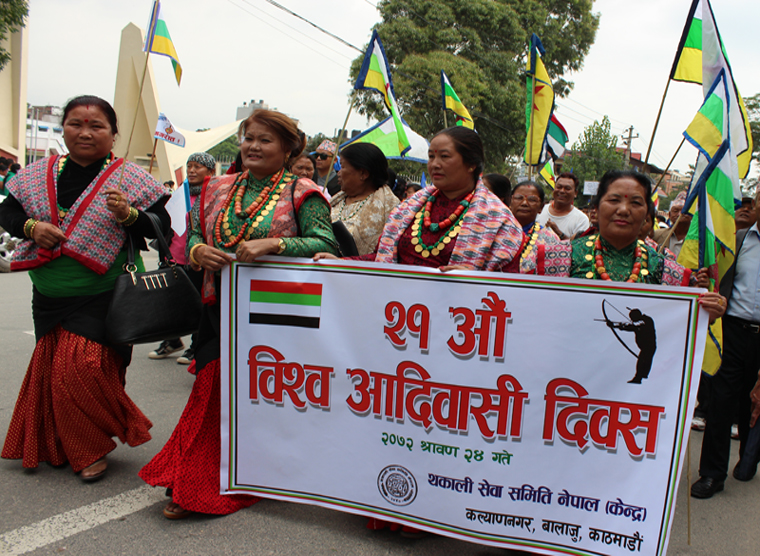 Barshaman roars
Speaking at the same program, UCPN (Maoist) leader Barshaman Pun also flayed the new deal signed by his own party Chair Pushpa Kamal Dahal.
"This is a challenge for us," he said: "By thrusting a regressive deal upon us, the four parties have sent us a message: if we are capable of fighting, we should fight for our rights or we should simply kowtow to what they decide. So it is now up to us to decide what we want to do. It is up to us to decide whether we want a new struggle or meekly accept the regressive constitution."
Pun added, "I have always said that ethnic communities should not be forced to live in two different provinces. And I had hoped that at least those leaders who fought a people's war in the past will stand by me. But they betrayed us. So it is high time we gave up thinking that there are some leaders in the CA who will fight four our cause. We should fight on our own. And we cannot achieve our rights unless we shed more blood."
NEFIN's President Nagendra Kumal, Nepal Indigenous Student Federation's Dujang Sherpa and Indigenous Youth Federation's Gyanendra Pun also warned of strong protests if the new deal is not corrected. They drew the four parties' attention to the past pacts between the government and indigenous groups.
Janajati protestors halted traffic movement along New Baneshwor road for a few hours. Clad in traditional attire, they also demonstrated their cultural dances.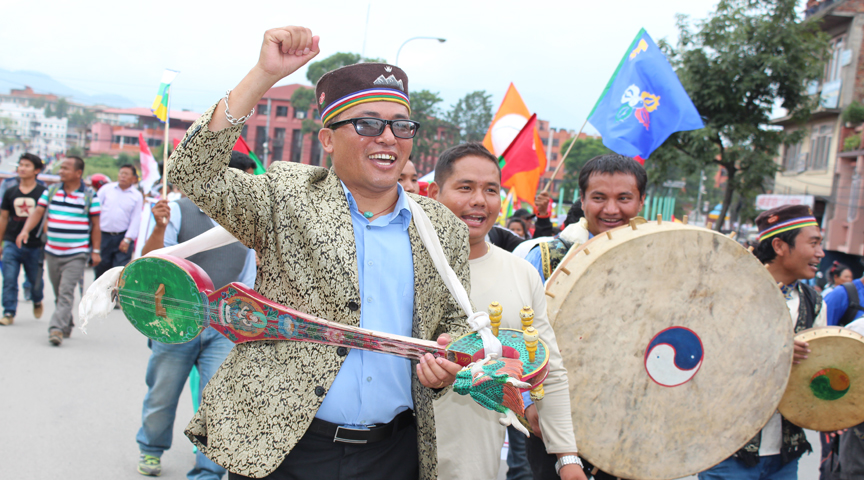 A day to remember
The International Day of Indigenous Peoples started in 1993. Nepal has been marking this day right from the first year. The world has already marked two back-to-back decades of Indigenous Peoples (first between 1994 and 2003 and between 2005 and 2014).
Dr Krishna Bahadur Bhattachan, a noted scholar belonging to indigenous community, says: "We do not celebrate this day just for the sake of celebrating it. This is also an important day to remind the Bahuns-Chhetris about historical injustice that they have done to us."
He said: "You don't need bullets to eliminate ethnic groups. Even through laws, policies and system, you can eliminate languages, cultures and existence of various ethnic communities. This is what exactly the state has done in Nepal. By signing the new deal, they have also taken back what they have given to us in the past. The ruling Chhetris/Bahuns will have to pay the price for this."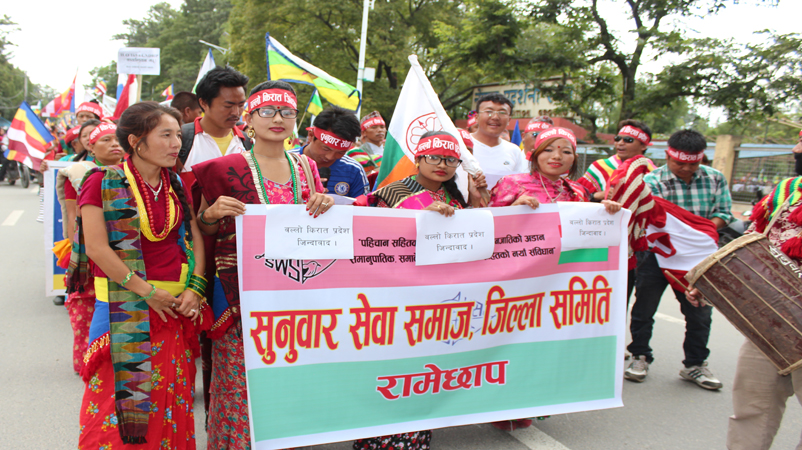 A day to be agitated
Indigenous Peoples also celebrate this day as a day to be agitated for their rights, and against injustice done to them. This year Nepal's Indigenous Peoples appeared more agitated because of the new constitution deal. Shanti Jirel, Chair of Indigenous Women Federation, said: "We celebrate this day as part of our agitation. We celebrate this day to assert our rights and fight for our rights. This year the need for agitation has been greater than ever before because of the regressive constitution, which is all set to be thrust upon us."
She adds: "The new constitution has not empowered Indigenous Peoples and minority groups. So there are no options but to fight. Even in the days after the indigenous day, we must keep fighting four our rights."