Tamang Indigenous communities across the country on Wednesday observed Sonam Lochhar—the beginning of New Year Sonam Lhosar—the Sheep year 2851 with amid fanfare.
Tamang indigenous community said to have come from Mahayana sect of Buddhist religion in Nepal and abroad celebrate the beginning of their new year by organizing various programs and exchanging greetings, happiness and best wishes with each other.
Tamang peoples residing inside Kathmandu gathered in Tudikhel, the open ground in Kathmandu and observed the festival organizing a special cultural program. The event also showcased varieties of traditional cuisine, traditional dresses, handicrafts, book stalls and so forth.
Lochhar, orally uttered as Lhosar is one of the greatest cultural festival of Tamang indigenous peoples. This festival is not merely observed in Nepal alone but also in China, Korea, Japan, Malaysia, Hong Kong, Singapore, Vietnam, Laos, Thailand, Bharma and many others states equally have the similar charm.
Recognizing the festival of Tamang as a national festival, the government declared the national holiday on the occasion.
What is Lhosar?
The term 'Lho' means year and 'Chhar' stands for new and therefore, it together signifies a 'New Year'. The community believes in Lho or year order of cycle based on 12 different animals namely-- Rat, Ox, Tigar, Rabbit, Dragon, Snake, Horse, Goat/Sheep, Monkey, Rooster, Dog and Boar (pig) and carryout the rituals accordingly on the basis of same cyclic order. This year is the beginning of the year of the 'Sheep', which bids farewell to the year of the horse in the Tamang indigenous community. Tamang indigenous communities celebrate this festival for over 15-days by visiting near and dear ones, exchanging of wishes.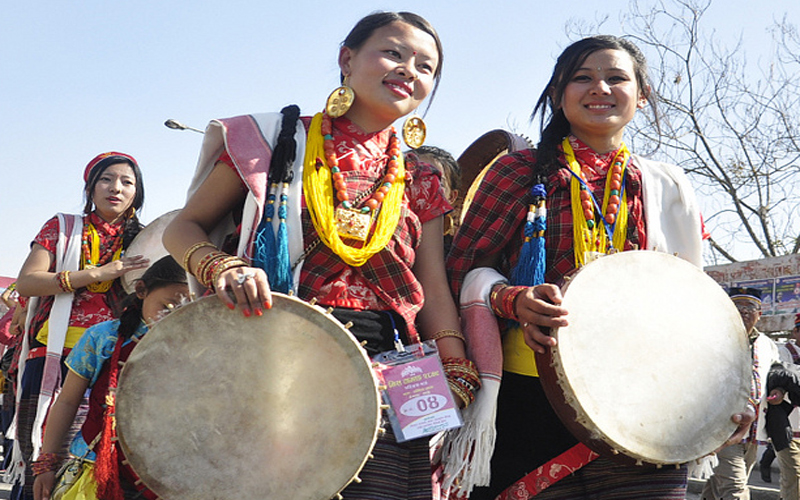 Wishes extend
On the occasion of the festival of Sonam Lhosar of the Tamang community, president Dr. Ram Baran Yadav extended greetings to all Tamang indigenous communities living at home and abroad and wished them joy, peace and prosperity.
In the message, President expressed confidence that the festival would help increase the sentiment of bond among the Nepalese living in mountainous, hilly and the Terai region in a single thread of unity.
President Yadav also wished that this festival encourages us to protect and promote all festivals, languages, attire, culture and traditions.
In a separate message, Vice President Parmananda Jha also extended his greetings. His messages reads that this festival would inspire all Nepalese move ahead on the path of agreement and collaboration by uniting all at a time when the country is in the necessity of peace, prosperity and democratic constitution.
Meanwhile, Prime Minister Sushil Koirala also extended greetings to Tamang community living in the country and abroad on the joyous occasion of the greatest festival of the Tamang community and New Year Sonam Lhosar (Sheep New Year) 2851.