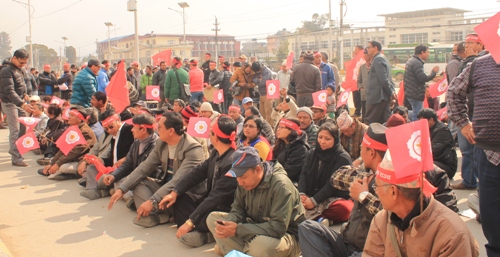 Indigenous Peoples on Thursday conclude the sit-in program that they have been staging in front of Constituent Assembly (CA) for last 3-days calling to stage stringent nation-wide protest if in case the new constitution doesn't ensure their rights.
They had been staging protest putting forth a 9-point demands including to ensure their rights relating to language, culture etc. including restructuring of country on the basis of ethnic-identity, ensure the proportionate representation of indigenous communities in each state organ, institutionalize the secularism, ensure the proportional electoral system and so forth.
Speaking at the program, indigenous leaders said that 'occupy Baneswor' was only a sign of protest. They would organize the mass gathering at Basantapur and then picket CA building and if in need call nation-wide closure.
Addressing the protest, the founding General Secretary of Nepal Federation of Indigenous Nationalities (NEFIN), Suresh Ale Magar said, "Indigenous Peoples are ready to struggle to death for their rights."
He further said, indigenous peoples are said to disintegrate the country, but the fact is if their rights are not ensured in the new constitution, which will split up the country.
Speaking at the sit-in program, Coordinator of Newa Autonomous Manka Struggle Committee, Malla K Sundar said the federalism without identity would not be acceptable to indigenous peoples.
He further said that the movement of indigenous peoples for equal rights and institutionalize the agreements so far reached between the government and Indigenous Peoples movement which are related to ensuring their rights.