SONAM LAMA
Nirumaya Rana Magar starts off her daily routine before the sun wakes up in Siluwa, a village tucked in an eastern hill of Purbakhola Rural Municipality in Palpa. Like a normal day, she prepares her food burning fodders that she collected from a private remote forest far away from her home. The village itself is surrounded by Thapana (5 hectares) and Baghkhor (59 hectares) which are two among the 11 community forests in Siluwa. However, the communities around walk quite a long way to collect woods from private forests.
All Magar communities in Siluwa are permitted to collect fodders from Baghkhor consulting the community forest user groups but they don't fetch a leaf from Thapana because they fear their ancestral protector deities. "For Magars, Thapana is a sacred forest. We have been following this practice of protecting it ever since we could remember, says Nirumaya.
The forest which is spread around five hectares although was registered as a community forest more than a decade ago, it was socially and religiously protected since time immemorial under the Bheja system - which is a local indigenous customary law governing the Magar community in Siluwa.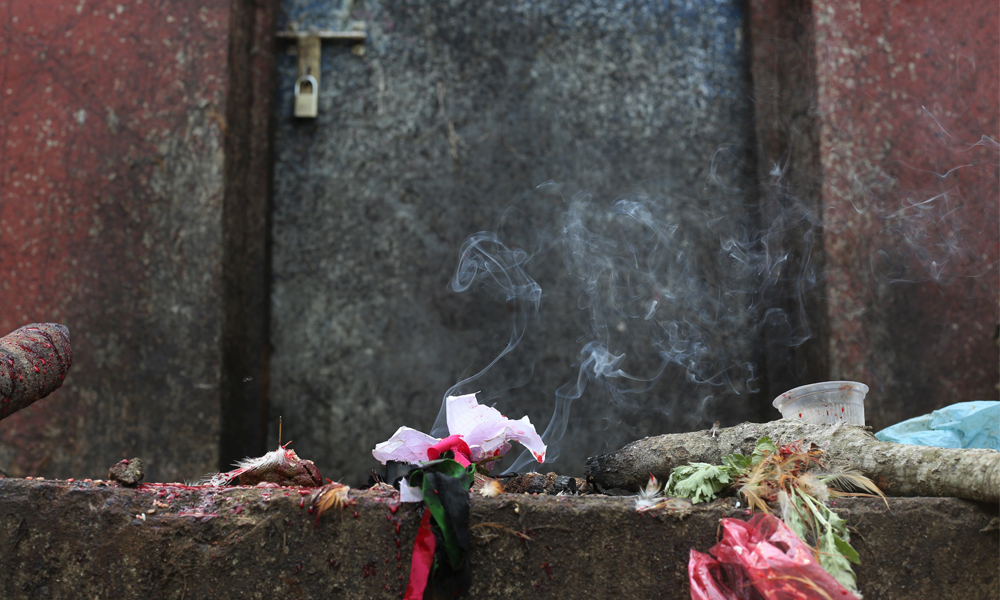 Under the system 143 households in the village currently conduct Bheja Puja every week to worship their ancestral protector deities, Rude Mandali Chura Baraju. Since generations, the deities are believed to have been residing in the forest so any kind of forest harm or misconduct is forbidden in the area.
Nun Bahadur Magar, chairperson of Rude Mandali Chura Baraju Management Committee, says routine worships are carried twice a week but major Bheja puja are conducted four times a year starting off in Mangsir (Nov/December), Falgun (Feb/March), Baisakh (April/May) and Asar (June/July). Communities from inside and out of Palpa visit the forest to offer their bhakal, animal sacrifices to the deities.
As ancient Magars were nature worshippers, this practice also holds much significance from the perspective of nature and agriculture. Back in the agrarian community, the farmers started worshipping deities as a pledge for good harvest. Whenever there was insufficient water or the village was threatened by drought, the community worshiped for rain. For instance, revering deities in Asar and Mangsir was important as farmers planted and harvested paddy in the respective months. Likewise, the four months marked an important event to make offerings in order to fight possible climate hazards.
However ancient the practice, Bheja system has been evolving with time.
"In ancient Magar community, the system was a judicial court where the Mukhiya being the leader set out local rules and passed on his decision on community issues and disputes," says Bhok Bahadur Thapa Magar, writer of Siluwa Smarika 2057, a handbook on culture and history of Magar in Siluwa published more than two decades ago.
Chairperson of Nepal Federation of Indigenous Nationalities (NEFIN) Palpa, Gam Bahadur Thapa Magar says Bheja generally meant a 'community' that gathered in to discuss social issues, communal practices and problem-solving under a set of rules governed by the local laws. It was a traditional practice that efficiently regulated communities by the rule of law when there were no legal systems like it exists today. The communities then heavily depended and sustained through barter systems and Bheja leaders were the one who defined and decided on laws and regulations in order to maintain a just and equitable society. "They also traded foods using the Aicho-paicho system where one party would lend from the other, agreeing to make the returns in a specific time frame decided by the leaders."
This system is still protecting the forests and natural resources of Thapana. Locals, especially men gather in the forest, offer their bhakal and consume it in a huge group. There is an ancient belief that women should not consume it although they can participate in the event. "It is how we have observed this event for ages and we abide by the customary practices," says Nirumaya.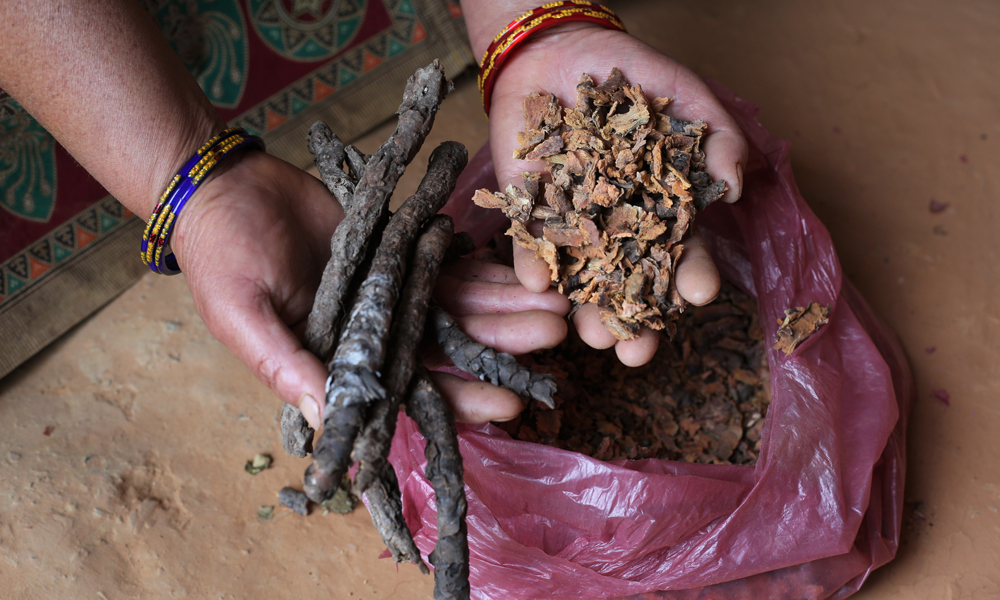 64-year-old local of Siluwa, Mann Bahadur Bayambu says that unfortunate incidents have occurred in the past who have tried to conduct illegal logging in the forest. A few locals who thought of benefitting from the forest resources were believed to have been harmed. The forest is rich and consists of a variety of medicinal herbs and commercial trees like Sal (Shorea Robusta) and (Tej patta) Cinnamomum tamala. Likewise, among the eight Sub Division Forest Office existing in Palpa, Rambha Sub-Division which comprises Rambha and Purbhakhola Rural Municipality contributes the second highest (17 percent) Cinnamomum tamala found in Palpa.
"Thapana is an abode of our protector, a part of our belief system so we view it as something having more than a monetary value," says Bayambu. "We ensure that the waste generated through human activities is cleaned. And to make it more sustainable we have hired a local to clean the area weekly since the inception of Rude Mandali Chura Baraju Management Committee," he adds.
In one the researches conducted in 2020, a total of 58 plant species belonging to 42 families, and 57 genera used by the Magars in eight villages in Siluwa of Purbakhola Rural Municipality have been documented. The rest of the community forests in Siluwa including Saldada and Baghkhor is also properly managed under the community forest user groups wherein the community people are allowed to make a limited use of the forest resources. "In order to make use of commercial trees like Sal for homely purposes, submitting an application to the sub division forest office is mandatory," says Raj Kumar Ale, Chairperson of Saldada Forest User Group.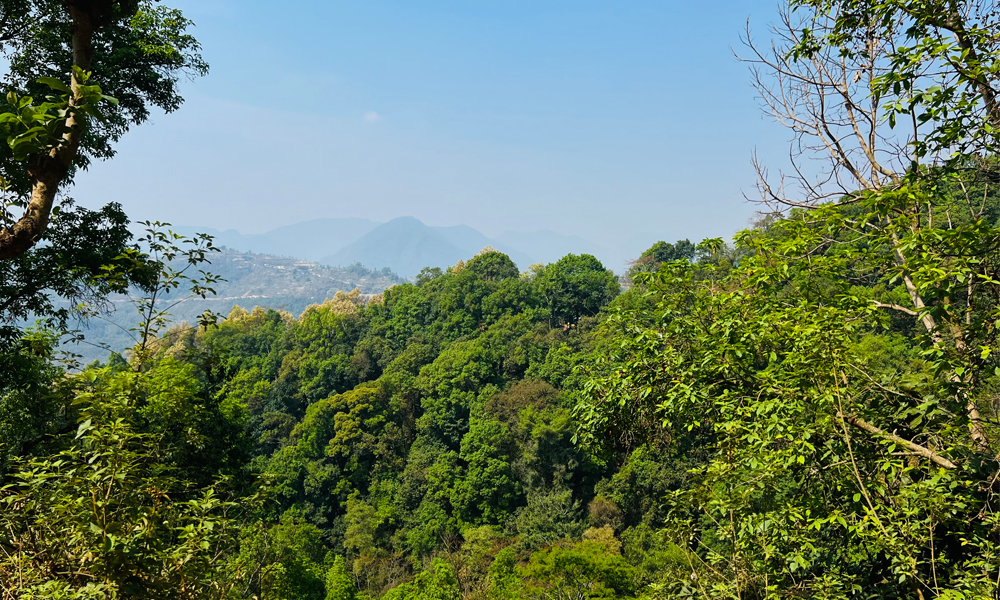 The forests are so far protected however, forest fires are rampant in few community forests. "Since the fire is believed to have occurred through human activities, the local government and District Forest Office could do more than only spreading awareness in communities," adds Ale.
Nevertheless, the division forest offices have been planning to make commercial use of community forests with an aim to better manage them. Forester of Rambha Sub Division Forest Office, Bishnu Karki says that the plans and policies led so far in regards to forest management have only been protection oriented. "We could make better utilization of forest and its resources so as to generate commercial benefits out of them."
Meanwhile, like Nirumaya and Mann Bahadur, Magars in Siluwa hope to keep their customary values alive in hopes to live in close proximity to nature and being guarded by the deities that protected their ancestors – also providing them a way out to overcome every possible natural hazard in future.
The story was produced with support from the Earth Journalism Network. All photos by Sonam Lama.