There starts a huge debate now on where will the constitution writing process go, following the scuffle during the session of Constituent Assembly (CA) on Monday mid-night.
During the session, the opposition CA members fiercely had protested, amid scuffled against the efforts of the proposal for committee to develop questionnaires on the disputed issues of the constitution before they are put to vote.
The CA members from UCPN-Maoist, Madhesi, Dalit and Indigenous Nationalities had stood fiercely against bringing Constitution without forging consensus on the contagious issues in the Constitution namely executive power sharing, judicial system, electoral system and more importantly the number of federal provinces.
CA chairperson tabled the proposal to decide the disputed issues through majority voting system, even though a Baburam Bhattrai, the chairperson of Political Dialogue and Consensus Committee urged the session to end contentious issues through consensus rather than sticking to January 22, the Constitution deadline.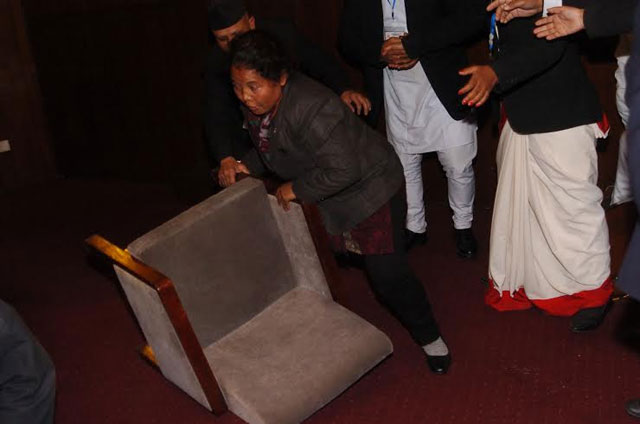 Towards conflict

The minor Political Parties including the UCPN-Maoist and Indigenous Peoples' National Movement-Nepal, a coalition of Indigenous Peoples Organizations (IPOs) have been taking to the street for writing Constitution through Consensus and equally pressurizing government to federate State on the basis of identity.
On the other, the NC-led government and UML stick on to bring Constitution deciding the disputed issues through due process of majority voting system in the session. NC and UML make the majority in CA intends to give at least lesser rights to the minority communities including the indigenous peoples.
Chairperson of Sadbhawana Party, Rajendar Mahato remarks that now there is no way to consensus, the political course is leading to violence.
Now, indigenous peoples, Madhesis, Muslim, Women and other minority groups are taking to the street, they will not stop until they institutionalize their rights are addressed, as earlier agreed by the government.
According to him, conflict continues until the Constitution is written in favor of them. Though there were alternatives to forge Consensus, the government was moving forward even violating the provisions of CA regulations.
Political analyst Jhalak Subedhi opines that the conflict currently is not between the majority and minority rather than the progressive and regressive force. The minority groups wants their rights reflected in the new constitution, while another groups are against this. Therefore there is possibility of fierce clash.
On Tuesday, a coalition of Human Rights Activist Padma Ratna Tuladhar led Indigenous Peoples National Movement-Nepal (IPsNMN) and UCPN-Maoist jointly called the strike to pressurize government to write a constitution through consensus.